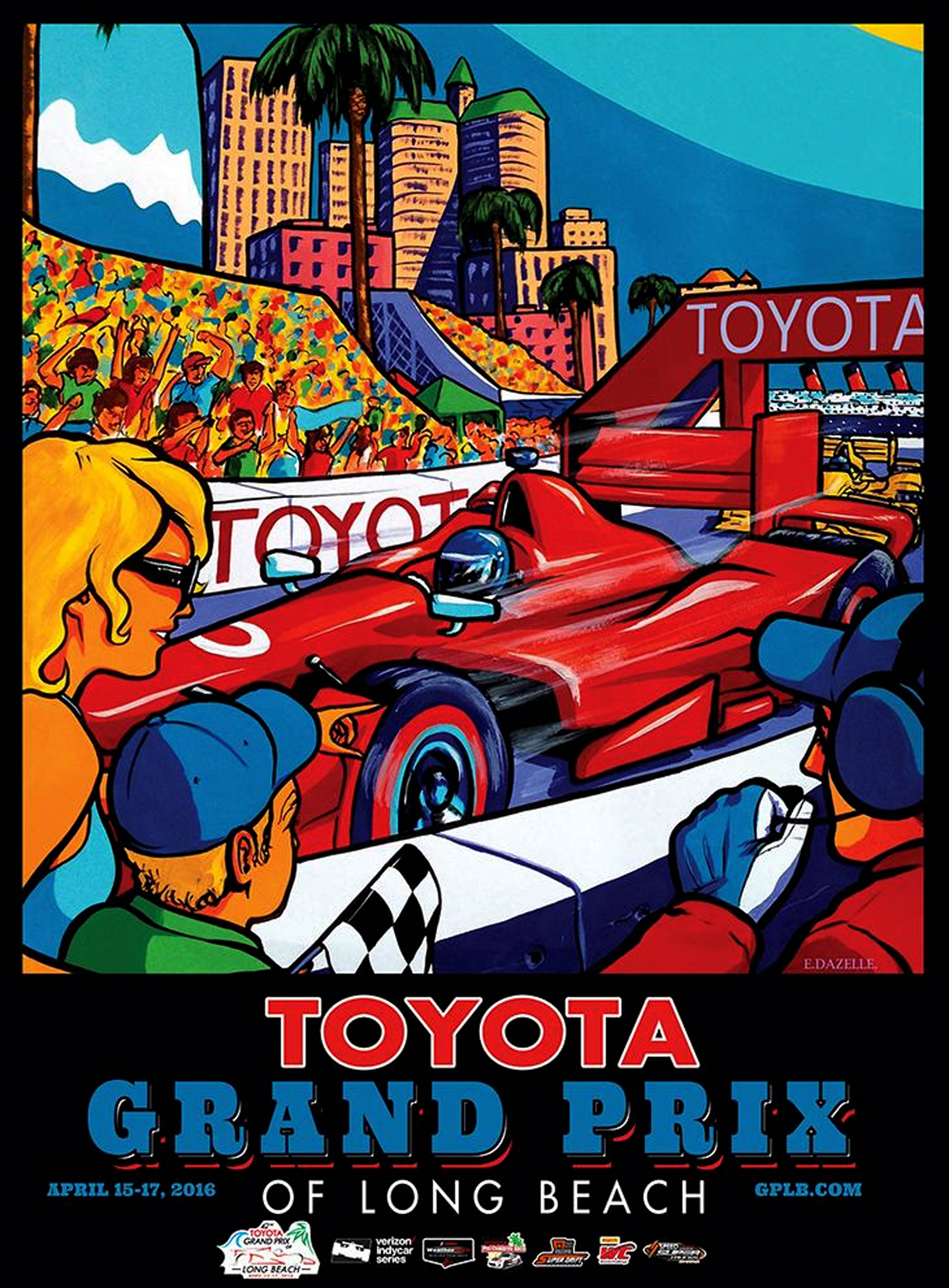 15 avril 2016
LONG BEACH, Calif. (Feb. 4, 2016) – Internationally acclaimed French artist Erwin Dazelle has been selected as the Official Artist for the April 15-17 Toyota Grand Prix of Long Beach.
Dazelle's colorful artwork will be featured on the official Grand Prix poster and also serve as the race weekend's overall look, with the art appearing on program covers, fan guides, brochures, tickets and other materials.
Dazelle, who also served as the Grand Prix's official artist in 2012, has been painting professionally since 1996. He has a long list of accomplishments that includes the creation of artwork for Sunoco's Official Fuel of INDYCAR 2011 point-of-purchase campaign, the 10th anniversary commemorative program cover for the NASCAR Sprint Cup Ford Championship Weekend at Homestead Miami Speedway and various event posters for the Paso Robles Wine Country Alliance. He has also been commissioned in the past by Indianapolis Motor Speedway, Daytona International Speedway and the Sanfermin Encierro Museum in Pamplona, Spain.
"I am really excited and honored to have been selected again as official artist for the 2016 Toyota Grand Prix of Long Beach," said Dazelle. "I was really inspired during my last trip to the Grand Prix. I have traveled to many races around the planet and it is my favorite racing event. The ambiance surrounding the Grand Prix is unique and the proximity of the cars, drivers, teams and fans is unmatched. I look forward to being there next April and meeting the fans."
Erwin Dazelle initially honed his skills as a glass artist, inheriting a family tradition begun by his grandfather in the south of France during the 1930s. Subsequently translating these techniques to the canvas, Dazelle has developed a style that is at once bold and naive, and is as sharp as it is colorful. Fusing iconic French imagery and traditional Basque themes with this graphic style has made Dazelle's works accessible and intriguing to all who view them.